What Stands Between You and the Joy, Love and Peace You Desire?
Do feel worried, anxious, stressed, or overwhelmed?
Are you plagued by guilt, shame, or low self-esteem?
Do you wish you had easy to use tools to handle any situation?
Would you like to feel confident in your communications?
Do you have trouble trusting your intuition?
Would you like to feel more focused, efficient, and productive?
If you answered YES to any of these questions you are in the right place.
I am the author and creator of Attitude Reconstruction, which offers both a blueprint of the mind and simple tools for joy, love, and peace.
I combined what I learned from my renowned psychologist father, elements of eastern meditation, and 30 years as a marriage and family therapist and discovered that unexpressed sadness, anger, and fear are the root cause of all our BAD attitudes!
Emotions are nothing but pure physical sensations and by getting them out of the body — by releasing that energy… by sobbing, stomping, and shivering… you're guaranteed to create more joy, love and peace in less than 5 minutes.
I invite you to take a tour of the website. Please feel free to ask a question, leave a comment, or buy the book.
Cheers… Jude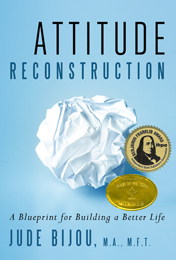 2012 Benjamin Franklin Award – Winner in Self-Help
2012 ForeWord Reviews – Winner in Psychology
2012 ForeWord Reviews – Winner in Self-Help
2012 International Book Award – Winner in Health: Psychology/Mental Health
2012 Nautilus Silver Award – Winner in
Personal Growth/Self Help/Psychology
2012 Los Angeles Festival of Books – Winner in How To