CURRENT EVENTS
Upcoming Radio
March 16 Saturday from 10 to 11am pacific
Jude will be speaking with Maureen Anderson of "The Career Clinic"  www.TheCareerClinic.com
March 31 Sunday
Jude will be chatting about Procrastination at work with Laurie Dodd of CBS /KRLD Public Affairs. It will be broadcast on KLLI-FM and KJKK-FM in Dallas. Click on http://www.ontheradio.net/stations.aspx to find where it will be broadcast near you.
March 23 Saturday sometime between 8:00pm to 11:00pm
On Radio Amerika Now. Jude will chat with Barb Adams about Procrastination. This interview will air on 400 stations around the country. www.radioamerikanow.com
March 30 Saturday  8:30 a.m.
On WSOU New York City. Because March is "National Procrastination Month," Jude will be the guest on Thank God For Monday, a program dedicated to workplace satisfaction and career fulfillment, hosted by Seton Hall alumnus Brother Greg Cellini. This is an interview with a public radio station in NYC Metro.
April 10, 2013 – 6:30-7:30pm pacific
Clarity from Chaos with David Campbell
Topic: Ten Ways to Stop Procrastinating at work
www.BlogTalkRadio.com
Upcoming Events
How to Communicate Simply, Lovingly, and Effectively
Saturday May 4, 2013 – 9:30am to 4:30pm
Schott Center Room 28
310 West Padre, Santa Barbara, CA
Cost $23.00
RN/LVN, CNA, MFT/LCSW 6 contact hours available
PAST EVENTS
Women's Festivals Roundtable Discussion
A great turnout at the Jude's Women's Festivals Roundtable talk, "Five Minutes to a Better Emotional Life."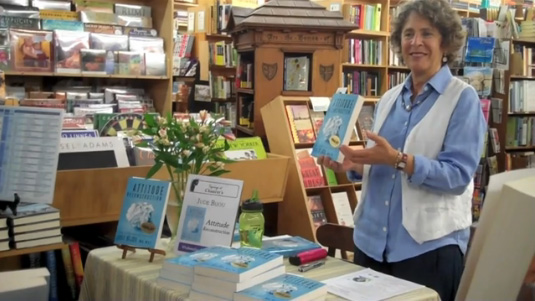 Author Jude Bijou at a recent book signing event for Attitude Reconstruction.