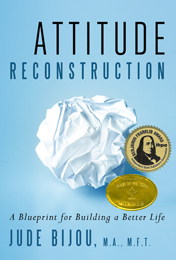 What if someone told you that you could discover the source of all your problems and address them head-on? How about if they told you that reconstructing your attitude would actually change your life? Author Jude Bijou combines contemporary psychology and ancient spiritual wisdom to provide a revolutionary theory of human behavior that will help you do just that. Her comprehensive blueprint will teach you to:
Identify and navigate the six primary emotions;
Replace destructive thoughts with reliable truths;
Access your deepest intuition;
Communicate lovingly and effectively;
Overcome harmful habits through step-by-step action.
These concepts can be easily understood and integrated into your daily routine, regardless of your spiritual path, cultural background, age, or education. With practical tools, real-life examples, and everyday solutions for thirty-three destructive attitudes, Attitude Reconstruction can help you stop settling for sadness, anger, and fear, and infuse your life with love, peace, and joy.
Electronic Versions = $9.99
Attitude Reconstruction: A Blueprint for Building a Better Life is available in all of the electronic reading formats from Smashwords.com. It is available in the "Kindle" format from Amazon.com
Buy from Smashwords.com in All Formats Buy from Amazon.com in Kindle Format